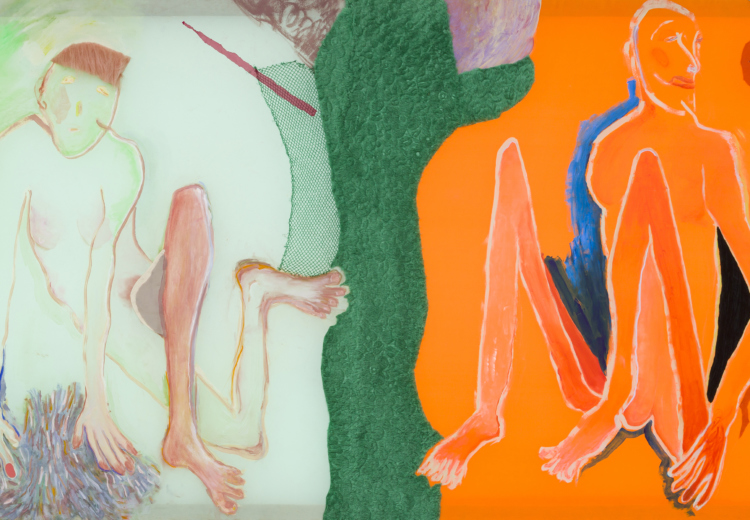 Gokula Stoffel
Porto Alegre, Brazil, 1988
Lives and works in São Paulo
Download
Stoffel's paintings incorporate traditional materials and techniques, as well as various mundane supports – textiles, glass, wool, and aluminum foil, among others – in creating translucent and reflective surfaces that capture a continuous flow of images of different sorts: portraits, landscapes, cutouts, and abstract textures. A human presence is felt in outlined body parts, hair strands, textile weavings, and scribbles that take up significant portions of the compositions.
Amidst the image and information saturation in which we live in, the artist proposes a pause, offering questions rather than answers. On the one hand, the graphic gesture and chromatic issues are evoked in classic painterly themes. On the other hand, threads, wigs, T-shirts, cigarette butts, and the like relinquish their image status by being fixed directly onto the picture plane. The irrefutable three-dimensionality of the work establishes a permanent tension between image and object.
Gokula Stoffel (Porto Alegre, 1988) lives and works in São Paulo. Recent noteworthy solo presentations include: Para-Sol, Pivô (São Paulo, 2018); Alvorada de Vênus, Auroras (São Paulo, 2018); and Madona Ansiosa, Fortes D'Aloia & Gabriel | Galpão (São Paulo, 2017). The artist has been included in several group exhibits, such as: Nightfall, curated by Fernanda Brenner, Milovan Farronato and Erika Verzutti, at Mendes Wood DM (Brussels, 2018); and Abre Alas #12, curated by Adriana Varejão, Paula Borghi and André Sheik, at A Gentil Carioca (Rio de Janeiro, 2016).