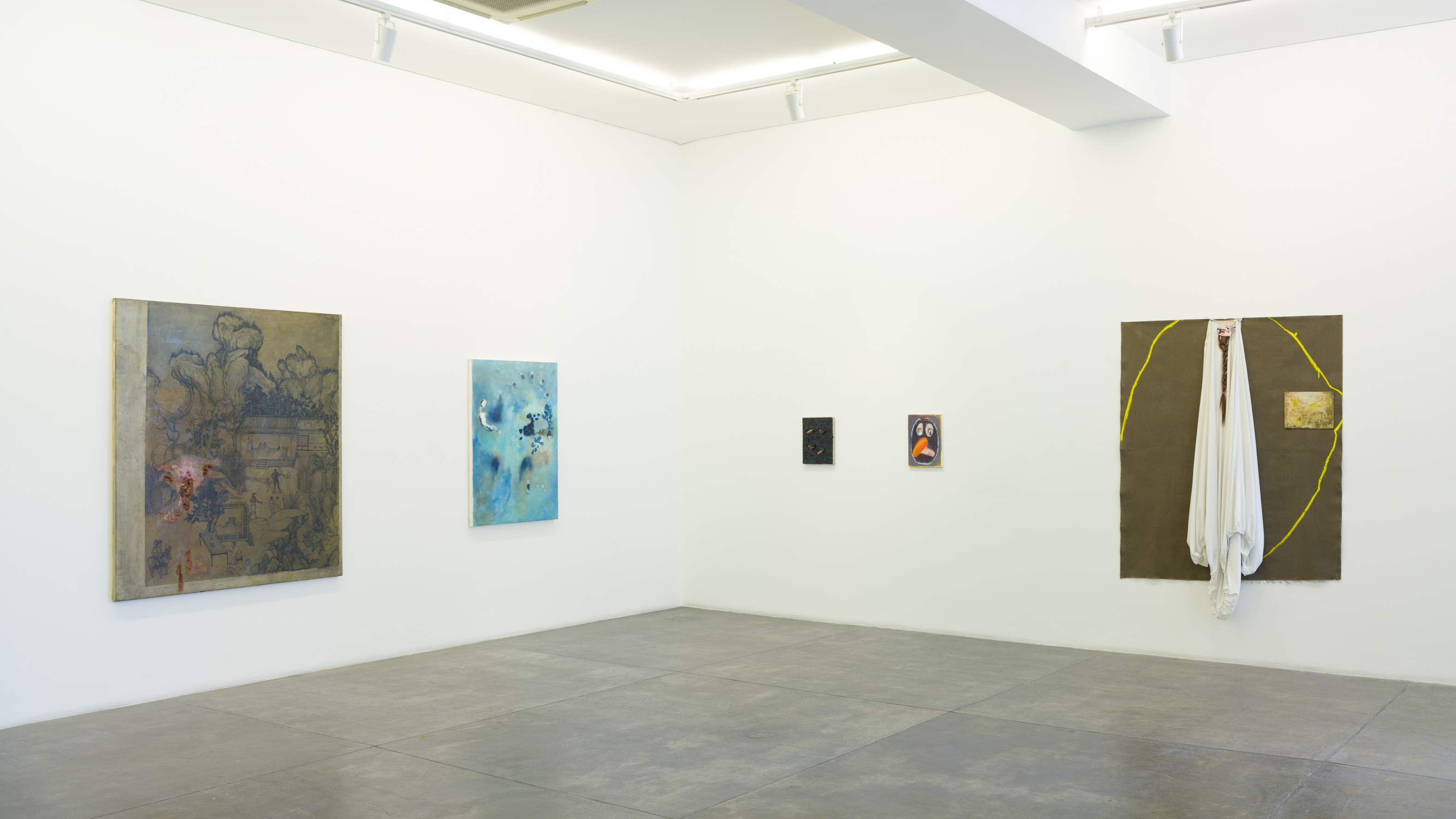 The Third Hand
Feb 6 – Mar 25, 2017
Curated by Erika Verzutti
Opening
Feb 6, 7 pm–10 pm
Galeria
Rua Fradique Coutinho, 1500 - Vila Madalena, São Paulo
Download
Daniel Albuquerque | Pedro Caetano | Adriano Costa | Isa Genzken | Francesco João Scavarda | Gabriel Lima | Matthew Lutz-Kinoy | Daniel Rios Rodriguez | Daniel Sinsel | Gokula Stoffel | Adriana Varejão | Erika Verzutti
We are pleased to present The Third Hand, a group show curated by Erika Verzutti, opening the 2017 programming at Fortes D'Aloia & Gabriel. The exhibition brings together a set of paintings that commonly share tri-dimensionality and the use of objects on their surface. This issue, recurrent in contemporary painting, also pervades the work of the artist herself, who has been progressively working with sculptures that migrate to the wall.
The exhibition title "the third hand" is an allusion to a finalizing ritual, in which feathers, fingers, eggs, blood, hair, cigarette and money are added at the end of the work production. It is also a skewed reference to a process described by Philip Guston1, in which an external presence (a divine one?) interferes in the artist´s decisions. Unlike those objects added to embody abstract expressionist canvases, these pieces denote distinct motivations, not exclusive to painting, but related to the current "state of the image".
Image reading in our contemporary time is permeated with both hybrid and immaterial perceptions, and it comes about through computers and phones screens, through combinations of emojis and characters. But differently from the analytical engagement of the post-internet art, which makes use of such languages, these pieces establish a connection in an opposite manner, embracing the richness and challenges of the visual with their intuitive approaches. They are pieces that allow a greater discussion on media diversity, as well as the roles of the art, the artist, and the viewer of the present time.
The painting Adriano, 2015, by Pedro Caetano, shows a colorful one-eyed face as in comic strips, sticking a lit cigarette out of the canvas. With a similar language, Matthew Lutz-Kinov´s Divine Tree, 2015, portrays a large-scale orgy of monkeys on the gallery ceiling, compelling the viewer to deflect the eye to enter the extraordinary world of the protagonists. Daniel Rios Rodriguez and Gokula Stoffel, in turn, explore the materiality in their works. Rodriguez gathers together natural and synthetic objects in New Walk, 2015/2016, in an abstract combination of somber and warm colors, whereas Stoffel in Véu [Veil], 2016, approaches intimacy and emotional ties through a composition formed by a braid of synthetic hair, a piece of a weaver´s loom and a white sheet used by a couple for ten years.
Gabriel Lima, Francesco João Scavarda and Adriana Varejão apply classic techniques in their paintings. Lima uses oil and acrylic paint to compose Untitled, 2017, which resembles an outer space scene, but it immediately brings us back with the seven pieces of dominoes glued on its surface. Gouache is used by Scavarda in Untitled, 2017, to portray carvings patched with adhesive tape, suggesting lesions on an infinite gray sea. Quadro Ferido, 1992, a historic work by Varejão, brings an injury exposed directly in the pictorial representation of a colonial narrative.
The German artist Isa Genzken shows Geldbild X, 2014, a piece composed of bills and coins glued together in an attempt to dissociate these from their primary function to exalt matter, form and iconology. Unlike Genzken, Daniel Sinsel incorporates organic material such as seeds or animal skin in compositions that surpass the two-dimensional surface of the canvas. In Untitled, 2012, four fingers extrapolate the edges of the canvas, whereas in Untitled, 2013, nut seeds can not superpose the texture.
The works from Daniel de Albuquerque and Erika Verzutti represent the canvas itself, bringing relief as media. In Untitled, 2016, Albuquerque paints directly on the wall using green and red spray paint, overlaid by an earthy-colored knitted piece, thus altering the color perception. Verzutti, uses in Paisagem com Ovos [Landscape with Eggs], 2017, a classic material such as bronze to place quail eggs at the bottom of the piece, transforming its surface.
[1] Conversations with Philip Guston. Film directed by Michael Blackwood, available here.