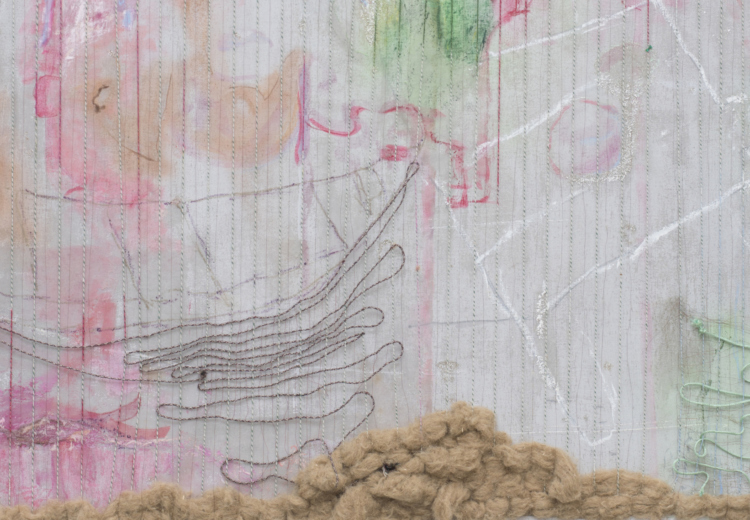 Anxious Madonna
Jun 3 – Jul 29, 2017
Opening
Jun 3, 3 pm–6 pm
Galpão
Rua James Holland 71
São Paulo
Download
In her first solo show, Gokula Stoffel presents bi- and tri-dimensional paintings, in which images of different nature converge into non-linear plots. An infinity of materials, such as paint, nylon, ropes and copper wire is found in her works, and they are at times gingerly displayed on classic supports, and at times transmuted into hybrid objects. The images seem to migrate from one place to another without belonging to any of them: Madona Ansiosa moves away from the canvas toward the plastic, transitions from the wall to the space, sets up precarious tents, makes a loop and returns.
Her main pieces in the exhibition, Arquejo and Insônia, are structures on aluminum, steel and concrete supporting a set of oil paintings on nylon. The images – conceived from photos, memories and sketches – are gathered together in a free association and establish a dialogue with the space by occupying different planes. Autazes, which also sails between painting and sculpture, brings an abstract composition on linen that takes on shape with a unique tapestry made out of mica and coconut fiber.
Mulher and Madona Ansiosa – the latter names the exhibition – allude to the feminine in an oblique manner. Just like the scenes painted on nylon, these pieces suggest narratives, albeit not completely revealed, as if they were excerpts from an apocryphal text. Alongside these more energetic pieces, there is a place for contemplation. Molécula suggests a cosmic landscape by presenting a small surface of paint, glass and plastic sparkling under a light reflector.
Gokula Stoffel (Porto Alegre, 1988) lives and works in São Paulo. Emerging from the fashion world, she dedicated herself to the visual arts as a self-thought artist in 2012, attending free courses and study groups in different institutions. Among her exhibitions, we can point out: A Terceira Mão, Fortes D'Aloia & Gabriel | Galeria (São Paulo, 2017); Individuation as an Instrument of Abstraction, Kunstverein (Berlin, 2016); Pandora, La Estación Espacial (San Juan, Puerto Rico, 2016); Abre Alas 12, A Gentil Carioca (Rio de Janeiro, 2016); I Scream, Galpão Glicério (São Paulo, 2016); 21st Salão de Artes Plásticas de Praia Grande (Praia Grande, 2014).