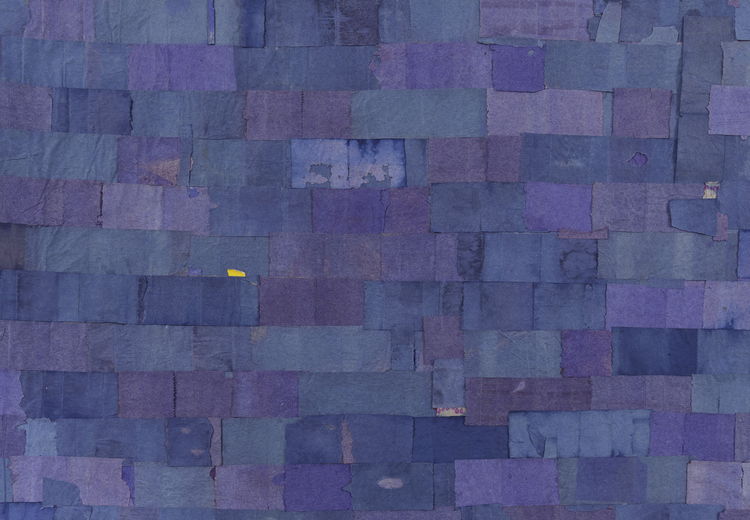 Antonio Tarsis
Salvador, Bahia, 1995
Download
Tarsis began his artistic practice at the age of 14 in the community of Arraial do Retiro, on the outskirts of Salvador. At the time, he began to gather and collect prosaic objects found on the streets, such as matchboxes, pieces of cardboard, tins of paint and other similar things; a daily practice that worked as an exercise of understanding both himself and the surrounding landscape.
His first works emerged from the accumulation of these mundane artifacts. By gluing and overlaying several small matchboxes, the artist produces compositions that investigate issues of form, working carefully with subtle variations of shades of purple and achieving a singular pictorial dimension, which is endorsed by his titles that often evoke ideas of landscape, sky and other natural elements – a typical symbology in the field of painting.
As a further development, Tarsis has deepened his research into the field of collage, and in the last few years he has produced large-scale works primarily using fragments of cardboard boxes used for transporting fruit – packaging that maintains the aesthetic standard regardless of its origins, from the Americas to the African, Asian, and European countries. In the latest series, a large quantity of small cut-outs from boxes are displayed in compositions whose vibrant palettes also reflect on issues of race and socio-economic dynamics.
By introducing the idea of commodity exchange (in this case, fruit), Antonio Tarsis evokes the colonial period, making use of the colorful exuberance of his compositions as a way of entering the dense terrain of contemporary debate, addressing themes such as decoloniality.