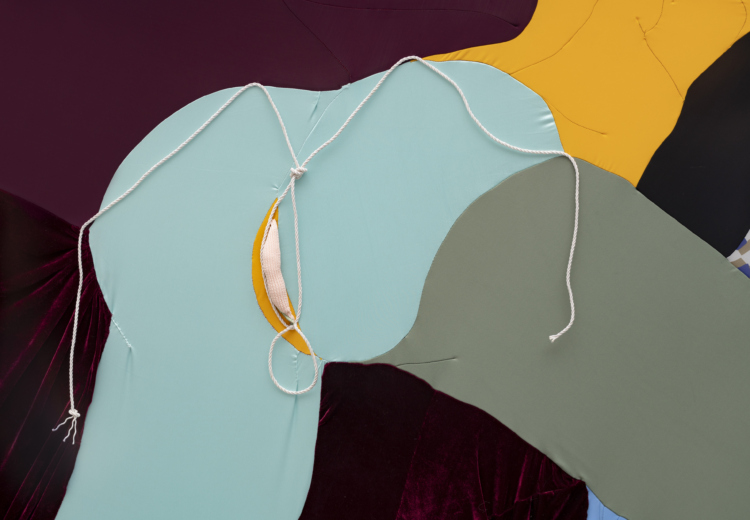 Yuli Yamagata
São Paulo, Brazil, 1989
Lives and works in São Paulo
Download
The starting point for Yuli Yamagata is the lexicon of comics and imagery found in popular commercial centers.  She compiles a mix of references that are equally diverse and ordinary: from landscape to animal prints, from active wear to the profusion of running shoes. The convergence of such impressions takes shape in fiercely theatrical sculptures and paintings, in which pastiche and deformation are means to deal with issues of taste, consumption and self-image.
Sewing plays a central role in her practice. In the beginning, the prints themselves suggested the form, in a mechanism closed in on itself. In more recent works, however, lycra colored surfaces give volume to autonomous bodies of cartoonish contours. Lustful lips, slender legs, and sharp nails create a very particular bestiary that, although anthropomorphic, never reveals itself completely. Grotesque, rebellious and deceiving, Yamagata's creatures trigger discomfort and desire in different measure.
Yuli Yamagata (São Paulo, 1989) lives and works in São Paulo. Noteworthy solo shows include: Microwave Your Friends, Invitro Gallery (Cluj, Romania, 2019); Tropical Extravaganza: Paola & Paulina, SESC Niterói (2018); Stickers Album, CCSP (São Paulo, 2016); Sem Cerimônia, MARP (Ribeirão Preto, 2016). The artist has been included in several group exhibits, such as: Samba in the Dark, Anton Kern Gallery (New York, 2020); Rocambole, Kunsthalle Lissabon (Lisbon, 2019) and Pivô (São Paulo, 2018); A Burrice dos Homens, Bergamin & Gomide (São Paulo, 2019); Perdona que no te crea, Carpintaria (Rio de Janeiro, 2019).