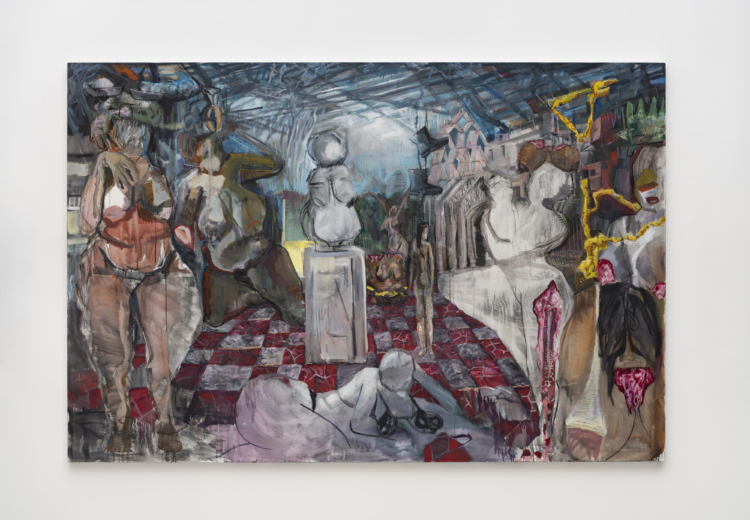 Márcia Falcão
Nov 6, 2021 – Jan 29, 2022
Opening
Nov 6, 12 pm–6 pm
Carpintaria
Rua Jardim Botânico 971,
Rio de Janeiro
Download
We are thrilled to announce Márcia Falcão's first solo exhibition. Emphasized by gesture and physicality, her painting articulates relations between the female body and the city, based on the artist's own experience in the suburbs of Rio de Janeiro, where she was born, lives, and works. The artist's figurative compositions present a gloomy palette commanded by shades of brown and red and thickened by the use of oil, acrylic, oil pastel, and charcoal, with a greater impasto in specific regions. Brimming with an ethos of violence, between expressions and a strong narrative impulse, a painting with a distinct visual impact emerges.
The show is accompanied by a critical essay by curator Raphael Fonseca.
Márcia Falcão (Rio de Janeiro, 1985) lives and works in Rio de Janeiro. Among her group exhibitions, the following stand out: Crônicas Cariocas, MAR — Rio de Janeiro Art Museum (Rio de Janeiro, 2021); Engraved into the body, Tanya Bonakdar Gallery (New York, 2021); Hábito/ Habitante, Escola de Artes Visuais do Parque Lage (Rio de Janeiro, 2021); Ainda fazemos coisas em grupo, Centro Municipal de Artes Hélio Oiticica (Rio de Janeiro, 2020); 12 Métodos de ser chegar a lugar algum, Paço Imperial (Rio de Janeiro, 2019); e Mostra EAV Parque Lage, Escola de Artes Visuais do Parque Lage (Rio de Janeiro, 2018).